Stainless Steel Jescar Fretwire #FW37080-S

Stainless Steel is a lot harder and tougher to work with than nickel silver fretwire(

not recommended for the beginner

)

Used on Acoustic guitar and can be used on some mandolins and banjos

2 3/4"(69.85mm) wide(usable width is approx. 2 5/8"(66.675mm))

25 frets pre-radiused

No need for a fretwire bender -

**custom radiusing available if requested before ordering**

Crown width: .080" (2.03mm) Crown Height: .037" (.94mm)

Recommended for slot width of .023"

Please check size before ordering
Jescar stainless steel fretwire is the hardest fret wire you can get. Jescar fretwire is used by many of the top guitar manufactures and highly regarded repair shops. You can't go wrong using Jescar fret wire on you next guitar or bass refret.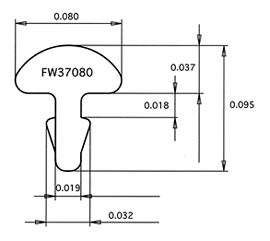 MM or CM to Fractions of Inches
I've used Jescar EVO and Stainless Steel for different guitars, both are the finest in my experience. Actually the FW37080-S is like a wider small mandolin fret, but it's like a 50's Gibson Les Paul Custom 'fretless wonder' size but better. Very smooth transaction up and down the neck, where big jumbo frets are like hitting a curb after a while. Love this Jescar the most.

Best SS fret wire, and Customer Svc!

This is my choice fretwire for believe it or not, bass guitar! Kenny is always the best in helping if in need!!

I'm using this fretwork for a bass guitar. It is close to the "vintage" Jazz bass fretwork size. I like that smaller size for basses. In stainless steel it should last a long time.

Great product and as always these guys are great to work with. 5 stars