18% Nickel Silver Jescar Fretwire #FW37080-NS

Used on Acoustic guitar and can be used on some mandolins and banjos

2 3/4"(69.85mm) wide(usable width is approx. 2 5/8"(66.675mm))

25 frets pre-radiused

No need for a fretwire bender -

**custom radiusing available if requested before ordering**

Crown width: .080" (2.03mm) Crown Height: .037" (.94mm)

Recommended for slot width of .023"

Please check size before ordering
Jescar 18% nickel-silver fretwire is both durable and beautiful. Jescar fretwire is used by many of the top guitar manufactures and highly regarded repair shops. You can't go wrong using Jescar fret wire on you next guitar or bass refret.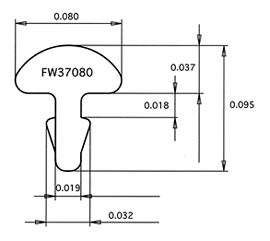 MM or CM to Fractions of Inches
Best quality,precurve very convenient,excellent service from PLS as always!

Jescar Nickel Silver fretwire FW37080 Acoustic Medium Pre-radiused

Great fret-wire in the size of my choice