18% Nickel Silver Jescar Fretwire #FW43080-NS

Popular for acoustic guitar and Vintage Fender electric guitars

2 3/4"(69.85mm) wide(usable width is approx. 2 5/8"(66.675mm))

25 frets pre-radiused

No need for a fretwire bender -

**custom radiusing available if requested before ordering**

Crown width: .080" (2.03mm) Crown Height: .043" (1.09mm)

Recommended for slot width of .023"

Please check size before ordering
Jescar 18% nickel-silver fretwire is both durable and beautiful. Jescar fretwire is used by many of the top guitar manufactures and highly regarded repair shops. You can't go wrong using Jescar fret wire on you next guitar or bass refret.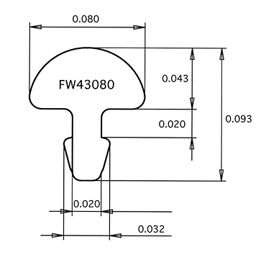 MM or CM to Fractions of Inches
I have used a couple different brands of frets. Jescar has the most uniform fretwire I have used. Great results every time so far. I will be doing all my refrets with jescar.

This is my 3rd set of Jescar frets. I have a very simple set-up and almost no specialized tools, so being able to order these pre-cut pieces with a custom radius has made it easy for me to both find my preferred fret size, and also to do the re-frets myself. The frets themselves are top notch, and shipping is fast. Great deal.