Jescar EVO Gold Fretwire #FW37080-EVO

EVO Gold is harder and tougher to work with than nickel silver fretwire(

not recommended for the beginner

)

Used on Acoustic guitar and can be used on some mandolins and banjos

2 3/4"(69.85mm) wide(usable width is approx. 2 5/8"(66.675mm))

25 frets pre-radiused

No need for a fretwire bender -

**custom radiusing available if requested before ordering**

Crown width: .080" (2.03mm) Crown Height: .037" (.94mm)

Recommended for slot width of .023"

Please check size before ordering
Jescar EVO gold fretwire is a beautiful gold colored fret wire. Jescar fretwire is used by many of the top guitar manufactures and highly regarded repair shops. You can't go wrong using Jescar fret wire on you next guitar or bass refret.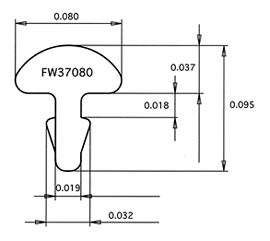 MM or CM to Fractions of Inches
Well radiused and easy to install. I've enjoyed using this fretwire on a few repairs. And customers love the feel. One customer did say that the frets were so smooth that the capo couldn't keep it in tune. Didn't understand why...just thought I'd let you know.

Jescar, EVO Gold Fretwire

I have done two re-frets using the Jesco Gold wire so far, and I really like working with it. It's certainly harder the Nickel Silver, and very different to work with. on Bound fingerboards, I find it works best with a fret tang filer (LMII) rather than fret tang nippers. The material files, and sands (fret leveling) quickly and easily. It is far less likely to get dented when using a brass fret hammer, and in fact my last fret, on a newly flattened fingerboard required almost no leveling. I like the look of it, and, I think the harder it contributes to the tone, or clarity of the fretted notes.

I used this to refret a Martin DM that had seen a lot of abuse. I wanted more durable frets but I was concerned that SS would be too hard as I am a novice. These frets were perfectly radiused making installation a breeze. I did not find this material any more challenging to work with than traditional nickel silver. I was also concerned that the gold color would look too gaudy but it looks more like the color of the wound strings than the brilliant gold pictured above, and from a foot or so away you would never know that they are not nickel.