Stainless Steel Jescar Fretwire #FW58118-S

Stainless Steel is a lot harder and tougher to work with than nickel silver fretwire(

not recommended for the beginner

)

Super Jumbo Electric guitar size

2 3/4"(69.85mm) wide(usable width is approx. 2 5/8"(66.675mm))

25 frets pre-radiused

No need for a fretwire bender -

**custom radiusing available if requested before ordering**

Crown width: .118" (2.99mm) Crown Height: .058" (1.47mm)

Recommended for slot width of .023"

Please be sure to check size before ordering
Jescar stainless steel fretwire is the hardest fret wire you can get. Jescar fretwire is used by many of the top guitar manufactures and highly regarded repair shops. You can't go wrong using Jescar fret wire on you next guitar or bass refret.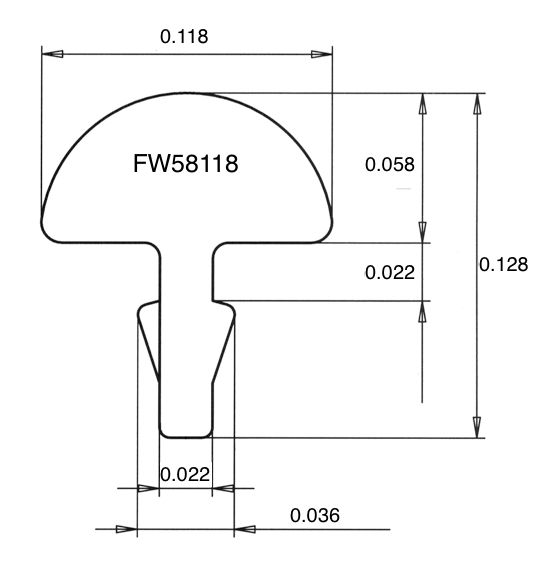 MM or CM to Fractions of Inches
These are simply the best quality stainless steel frets available on the market. They come in minimalist packaging, which is easier on my trash pickup guys and on the enrivironment.

Stainless steel guitar frets and brass press caul insert

These stainless steel guitar frets were perfectly radiused and in beautiful condition. I am truly impressed with this company. They followed up on this transaction and we're with me throughout the entire process. I also purchased a brass fret press caul insert and it was perfect as well. Keep it up my friends.

58118 ss jescar fret wire

I love the stainless, and I think this is the largest out there. Philadelphia Luthier shipped immediately and I couldn't be happier with the results.

Jescar stainless steel FW58118

Best Ever frets available in the market , highly recommended.

IMPORANT SHIPPING WARNING

Philadelphia Luthier Tools shows UPS and FedEx shipping options...for this $17 order, our UPS charge was also $17-- and it took 9 days to arrive. Ridiculous for package contents that are the size of 3 stacked baseball trading cards. Grievances for uncharge and delay expressed to Kenny @ Philadelphia, no adjustment offered. You can choose $3 USPS option and expect the same results on your order. Won't be a return customer... **Admin - customer choose UPS Ground. UPS ground is the UPS slowest shipping option. Customer is upset because it took 9 days to arrive. We are in Phila and he is in California. Why pay for ground when it is obviously going to be slower when traveling from the east to west coast by truck instead of air. Don't blame us for your mistake.

Don't need a fret bender.

It's pre bend to the correct radius and save me from buying a bender. Will buy again if I need it for other guitars.

These are basically perfect. Used them on three fret jobs so far, and will use this stuff in the future for sure. The radius is spot on, and they play like butter with a good level and crown. Absolute silk.

Jescar wire is super clean. When you wash it before installation, there is barely any grease on it at all. The fret barbs are really sharp and well formed, Jescar must do a good job maintaining their dies. Polishes up nicely after installation, as only stainless can.