Stainless Steel Jescar Fretwire #FW57110-S

Stainless Steel is a lot harder and tougher to work with than nickel silver fretwire(

not recommended for the beginner

)

Jumbo Electric guitar size

2 3/4"(69.85mm) wide(usable width is approx. 2 5/8"(66.675mm))

25 frets pre-radiused

No need for a fretwire bender -

**custom radiusing available if requested before ordering**

Crown width: .110" (2.79mm) Crown Height: .057" (1.45mm)

Recommended for slot width of .023"

Please be sure to check size before ordering
Jescar stainless steel fretwire is the hardest fret wire you can get. Jescar fretwire is used by many of the top guitar manufactures and highly regarded repair shops. You can't go wrong using Jescar fret wire on you next guitar or bass refret.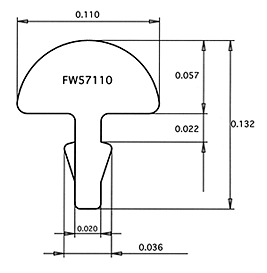 MM or CM to Fractions of Inches
they are the best in the world !

Amazing. PLS awesome to work with and ships quick. SS frets are the best and unbelievably worth it over nickel.

I've used these to refret basses. They are perfect. The cost is comparable to straight wire but you get the convenience of pre-radius. No fitment issues or defects.

From what I hear this is the best fretwire you can get. It is the best I have used.

Perfect size, great fretwire

After trying a few different sizes of the Jescar SS wire this is now my go-to for electrics. With the right tools, it's easy to work with, polishes wonderfully, and provides that slippery smooth feel only obtained with stainless frets.

Good lengths and radius

Jescar is the best period

Getting the pre radiused frets from PL is very convenient. Would recommend and will buy more as needed.

Perfect fit, jescar frets its harder and great tone, premium frets, the best fret ever

Very nice consistant wire. Not so hard that it breaks tools, but certainly harder than nickle. If i could get it unradiused, in two foot lengths that would be great, because i feel like i waste a lot haveing it pre cut, but ill be glad to buy more!