18% Nickel Silver Jescar Fretwire #FW57110-NS

Jumbo Electric guitar size

2 3/4"(69.85mm) wide(usable width is approx. 2 5/8"(66.675mm))

25 frets pre-radiused

No need for a fretwire bender -

**custom radiusing available if requested before ordering**

Crown width: .110" (2.79mm) Crown Height: .057" (1.45mm)

Recommended for slot width of .023"

Please be sure to check size before ordering
Jescar 18% nickel-silver fretwire is both durable and beautiful. Jescar fretwire is used by many of the top guitar manufactures and highly regarded repair shops. You can't go wrong using Jescar fret wire on you next guitar or bass refret.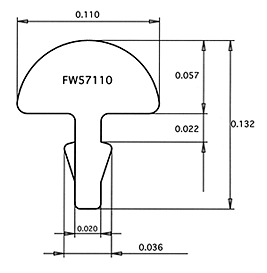 Jescar Nickel Silver Fretwire FW57110 Electric Jumbo Pre-radiused

Excellent...The best customer service...Very accurate...PERFECT...

These are way better quality than Dunlop. Dunlop set were
Inconsistent. Some were more mushroomed in shape others were more flatter. Jescar are more consistent in shape meaning less leveling. Jescar all the way.

JESCAR FW57110 PRE-RADIUSED

Excellent...everything perfect...i want buy more...

I fell in love with Jescar wire so much I ended up refretting all of my guitars with it. It's a pleasure to work with, seems far more consistent than the other big-name brand and polishes up like glass. The hardness is great too, it seems to wear slower than most other wires (and is a HUGE improvement on budget import necks, which often have pretty soft wire.)

The 57110 size has great height, and I like that it's a bit narrower than the "classic" competitor. If Jescar made this in 57104 I'd be in heaven, but it still doesn't feel as "speed-bumpy" to me as some other wires.

Great stuff!

A good jumbo fret. Slightly more narrow than what you'd find on an ESP or 90's Washburn MG. Good feel. Also "seems" harder than the material used in stewmac fret wire, so I would presume it can take a bunch of abuse. I have been regularly abusing mine for 4 months now and there's no sign of wear yet. For what you get, the price is right.

Other thoughts: I wouldn't use it for an 8+ string, but there should be enough on the individual pieces for a 7. Mine was for a 6 and there was plenty of extra.

Now my new favourite brand

I won't say much, but it's a bit cheaper and much better (in my opinion) to other brands I have tried in the past.