18% Nickel Silver Jescar Fretwire #FW57110-NS

Jumbo Electric guitar size

2 3/4"(69.85mm) wide(usable width is approx. 2 5/8"(66.675mm))

25 frets pre-radiused

No need for a fretwire bender -

**custom radiusing available if requested before ordering**

Crown width: .110" (2.79mm) Crown Height: .057" (1.45mm)

Recommended for slot width of .023"

Please be sure to check size before ordering
Jescar 18% nickel-silver fretwire is both durable and beautiful. Jescar fretwire is used by many of the top guitar manufactures and highly regarded repair shops. You can't go wrong using Jescar fret wire on you next guitar or bass refret.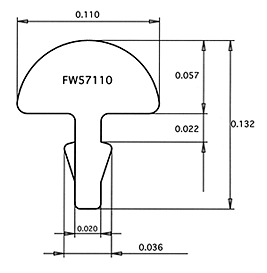 MM or CM to Fractions of Inches
These frets are fantastic, they last forever!

Love doing business with this company, quality products and excellent service!

Great service and Product

I was able to confidently make this purchase due to the kind support provided on questions i had since it would be the first time i would be attempting a refrettig job, and i will definitely be purchasing again on another project i have

Frets are very comfortable and easy to workk with. As always, Philadelphia Luthier had my order to me within a couple days

It took little bit more than a month, but all went well. Thanks for the phialuthertools sticker.Jescar fret wires are the best.

JESCAR NICKEL SILVER FRETWIRE FW57110 ELECTRIC JUMBO PRE-RADIUSED

Generously sized, very consistently radiused and cut. Jescar is an excellent wire, and PLT's sizing service saves time and trouble for my (tiny) shop.

Jescar Nickel Silver Fretwire FW57110 Electric Jumbo Pre-radiused

Awesome everytime! My go to

Jescar Nickel Silver Fretwire FW57110 Electric Jumbo Pre-radiused

I'm a guitar-maker by trade, and I build a lot of Telecaster-style guitars. This is by far the #1 choice of wire by my customers, and when they're not certain which wire to select, I recommend this wire in particular. It's high profile allows me to level the frets, with plenty of fret left after re-crowning and polishing.

Jescar Nickel Silver Fretwire FW57110 Electric Jumbo Pre-radiused

Excellent...The best customer service...Very accurate...PERFECT...

These are way better quality than Dunlop. Dunlop set were Inconsistent. Some were more mushroomed in shape others were more flatter. Jescar are more consistent in shape meaning less leveling. Jescar all the way.