18% Nickel Silver Jescar Fretwire #FW58118-NS

Super Jumbo Electric guitar size

2 3/4"(69.85mm) wide(usable width is approx. 2 5/8"(66.675mm))

25 frets pre-radiused

No need for a fretwire bender -

**custom radiusing available if requested before ordering**

Crown width: .118" (2.99mm) Crown Height: .058" (1.47mm)

Recommended for slot width of .023"

Please be sure to check size before ordering
Jescar 18% nickel-silver fretwire is both durable and beautiful. Jescar fretwire is used by many of the top guitar manufactures and highly regarded repair shops. You can't go wrong using Jescar fret wire on you next guitar or bass refret.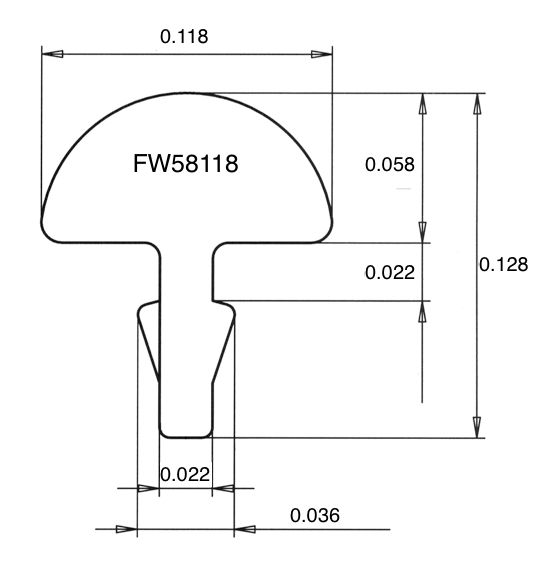 Great product and quick shipping

Quality fret wire. Very good price and fast shipping. Extremely satisfied. Philadelphia Luthier Tools will be the first place I look for tools and supplies.

Jescar FW58118 Pre-Radiused Fretwire

Not the cheapest way to purchase fretwire, but it's perfectly radiused, each piece is very long and it saves a great deal of time. Jescar wire, of course, is always excellent.

Jescar Nickel Silver Fretwire

I want to thank you very much with the product that you delivered and I'm very happy with how everything went.
Amazing well done and Excellent!! Great product, easy to use.,Very good for the money,



Getting these frets pre-cut to length and pre-radiused was a real time saver. Would definitely buy these again.

Perfectly radiused with smooth cut fret ends

Made the job go easy and Jescar is wonderful fret wire to work with.
If the guitar has been refretted a few times you may have to crimp the tangs. It appears Jescar barbs are a tad smaller than Dunlop. If it's a first refret everything will go smooth.