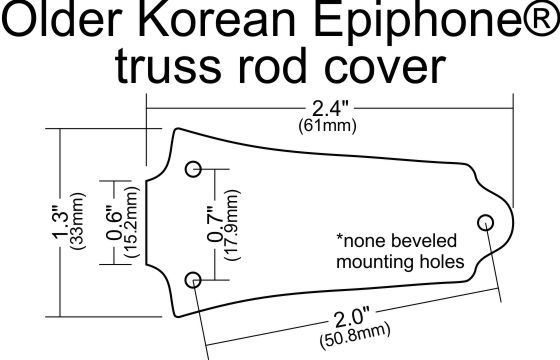 Aftermarket part - not a Genuine Epiphone® truss rod cover

The shape is a modified version of the Epiphone® truss rod cover.

We cannot make this truss rod cover have the same shape as the original Epiphone truss rod covers.

This will fit many of the Epiphone® Les Paul guitars manufactured in Korea

**Please check above measurements before ordering**

2 ply blank in black(1.5mm thick)

Mounting screws are not included

Engraved with your custom message and color filled with white paint.

Can be engraved for Right or Left handed guitars.

1 or 2 lines with 20 character limit per line. Each line will be centered.

Please remember that the text will be smaller in size the more characters there are per line.

Please allow

2 business days

from time of purchase for your engraved truss rod cover to ship.
MM or CM to Fractions of Inches
I ordered several truss rod covers for my older Epiphone Lp Standard. All were a few millimetres short. This one fits perfectly with the extra few mils at the base. The engraving is also faultless

The sizes are accurate n i love the customization

The sizes are accurate n love the customization

Perfect match for my Flying V and the engraving was top notch.

Custom Engraved Truss Rod Cover

2nd one I have bought. Very satisfied with Phila. Luthier Tools

Really cool and totally pro looking! A+

Looks great. This old guitar needed some love and this was one of a few things I added to give it a lil makeover. The only thing to watch for if you have an 89 epi sg is that the Gibson style open book headstock makes it so the two bottom screws line up but the top one is a bit higher. No big deal. Instead of putting another hole in my headstock I simply snipped off most of a matching screw so that it just mounted into the plastic plate for aesthetic purpose. The other two are more than sufficient for keeping it in place. I'll most likely be ordering some more stuff from this company. The custom engraving looks awesome.

Looks great and fits perfectly

This fit perfectly on my '90s Korean Epiphone Les Paul Standard, and the engraving work was very well done. It looks much nicer than the original plain printed "Gibson" cover. And it was shipped out the morning I ordered it.