GOTOH GE1996T Premium Tremolo guitar bridge

Made in Japan

Black finish

Hardened steel baseplate

Machined brass trem block - 3 different sizes available* - Measure before ordering

STUD LOCK - Patented

String locking nut sold separately**

Includes tremolo arm, spring, spring-holder, wrenches, stud-bolt, and screws

Original GOTOH packaging
The Gotoh GE1996T is the best of the high end licensed Floyd Rose tremolo models. Made with premium components…hardened steel baseplate, specially processed steel saddles, and machined brass trem block. Saddles are nicely rounded without any sharp edges. This is a very nice unit!
The GE1996T is a direct replacement for an Original Floyd Rose unit. Some modification maybe needed when replacing other licensed Floyd Rose tremolo models. Please check measurements carefully before ordering.
Google is your friend…search for GOTOH GE1996T for additional information.
**Use the buy it now the locking nut and then ask for an invoice. No additional charge for shipping when purchased together.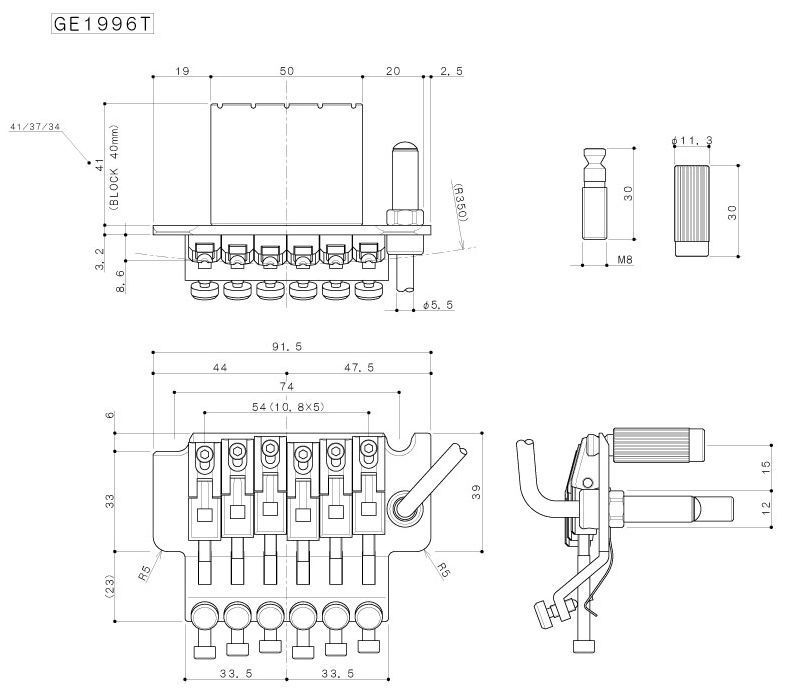 One of the Best tremolo bridges I've ever used

The GOTOH GE-1996T tremolo is one of the best tremolo bridges I've ever used. I have installed in on my LTD M-330RFM with a Floyd Rose Special which always detunes and a pain in the as* to setup. It looks and feels high quality, way better than the FR Special. I haven't used the posts that came with it but it fits well with the stock posts. I might be drilling it in the future so I can fit the posts that came with it. Overall, it is a great tremolo bridge and highly recommended.

The GOTOH GE-1996T bridge fits perfectly as a replacement on a Jackson guitar from the late 80s, it is a good replacement for the Jackson JT6 bridges that were installed on these guitars.
I decided not to replace the Studs as the GOTOH is functioning great on the original posts.
The Jackson guitar is a non recessed cavity guitar so the 40mm Block is perfect for this Floyd style guitar.
Great Quality Product, Highly Recommended.
This is a great store for quality parts and fast service.
Thanks for the picks, love those too!

I replaced a double locking tremolo in my Ibanez JemJr with this trem. It not only stays in tune better, but sounds and feels better too! Gotoh makes quality parts and I highly recommend this tremolo!

Yep,. Just like gillette razors. This brass block equipped beast has has amazing tuning stability,, sustain, made of STEEL and can take anything you throw at it.......literally! I ditched the floyd on my soloist and put this on. Will never go back to the floyd. Intonates easy, and when you tighten saddle screws.....it's tight. Isn't going to strip out. Didn't think I was going to like the way the bar mounted but it ended up exceeding my expectations by being extremely smooth and noiseless. I will put this against any german made schaller floyd. any day if the week. The only drawback.......depending on the size of the trem cavity, you may need to route it a pinch because the locking saddle post of the low e may not clear depending on the intonation (saddle placement). No other issues.... PERIOD!

Best Licensed FR out there

It installed perfectly. It really is the best. I've been using FR trems since they came out. Thank you very much!

Gotoh GE-1996T Locking Tremolo Bridge

Bought this for my son's Ibanez RG guitar. You have to cut off the ball end of the string which is the only imperfection in my son's POV. Otherwise it functions perfectly and the price is significantly lower than a Floyd Rose.

Used on a Dean ML to replace the licensed version that no longer held tune. Had to remove a little wood as expected and enlarge the post holes, but the bridge holds solid so far. Seems like great build quality. The only thing that surprised me was the height of the posts and inserts, I'm going to have to trim them shorter to get the action down a little more. Probably the one measurement I didn't check before ordering

As all other Gotoh parts i use, like the 510 series tremolos and tuning pegs, the Gotoh double locking tremolo is the best I've come across. I also appreciate the more ergonomic details and lower profile that gotoh provides over the blockier "classic" design and the higher quality materials used.

I got this to replace the "Licensed Floyd Rose" on my Kramer Pacer Classic. It was even easier to replace than I imagined. I opted not to use the Gotoh studs and stick with what was already in the Kramer. This saves a lot of time and effort if you are OK with the existing studs.

The bridge went right in with no modifications needed. I took some quick measurements before I installed it and had to do very little setup.

Bridge feels great and I think the guitar sounds better from the brass tone block.

Also PLS had awesome service and confirmed my suspicions on keeping the old studs with my situation.