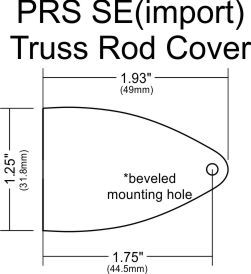 Aftermarket part(not Genuine PRS part)

3 ply blank in black(1.5mm thick with .5mm black, .5mm white and .5mm black) with a beveled edge

Mounting screws are not included
Fits most import PRS SE model guitars. Some PRS SE models do use the USA sized truss rod cover. IT IS VERY IMPORTANT THAT YOU CHECK THE SIZE BEFORE PLACING YOUR ORDER.

***PLEASE CHECK ABOVE MEASUREMENTS WITH YOUR ORIGINAL BEFORE ORDERING. If you have any questions please ask before placing your order!!***

Engraved with your custom message and color filled with white paint.

1 or 2 lines with 12 character limit per line. Each line will be centered.

Please remember that the text will be smaller in size the more characters there are per line.

Please allow

2 business days

from time of purchase for your engraved truss rod cover to ship.
If you have any questions please email us at

support@philadelphialuthiertools.com

before placing your order.
Got a bunch of these from here. They always do a great job with fast shipping

PRS Custom Truss Rod Cover

I am very happy with my purchase!

It looks great and fits the guitar perfectly.

I appreciate the customer service!

Thank You!

Hard to tell from the ones PRS used to sell for the SE. Fantastic job - I was really impressed!

Good quality. Great service.

I have to say I am impressed. They went out of their way for me. I had originally ordered a custom engraved cover for a lefty. They sent me a cover but unfortunately the lettering was upside down (made for a righty). The quality was good and I didn't want the hassle of returning the old one so I just figured I would live with it. I wrote a review explaining my situation. They read the review and promptly sent me out a new item with the correct engraving--no questions asked. I was pleasantly surprised when they e-mailed me with the tracking number for the new item. Great service. Thanks a bunch.

Well built and reasonably priced; sadly, I had ordered engraving for a lefty but it was engraved for a righty. Now 'Custom' is upside down whenever I play.

I've ordered a number of truss rod covers from Philadelphia Luthiers. I've always been more than satisfied. They do a wonderful job!!

This was dimensionally closest to the cover on a Harley Benton 550 (Les-alike made in Viet Nam). Ordered it knowing a new hole would be required, installation was straightforward and it looks great on the guitar. Thanks Philadelphia Luthier Tools.

Had to shave a little off the bottom for it to fit flush when screwed down. Just the touch I needed for my PRS!

Looks perfect. Just as ordered. Love it