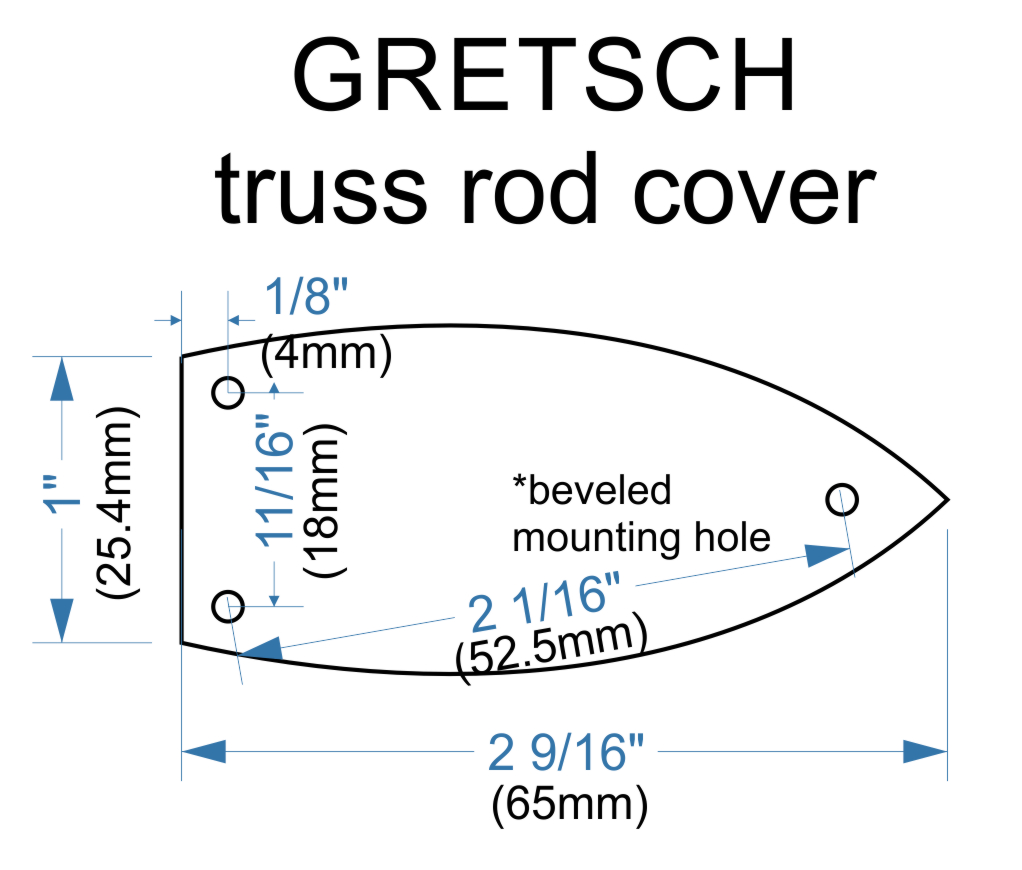 Aftermarket part (not genuine Gretsch part)

2 ply blank in black(1.5mm thick with 1mm white and .5 black)

Mounting screws are not included

*****Please check measurements before ordering to insure a good fit. If you have a question please ask before ordering.******

Can be engraved for right or left handed guitars.

Engraved with your custom message and color filled with white paint.

1 or 2 lines with 20 character limit per line. Each line will be centered.

Font G is limited to 16 characters and one line.

Please remember that the text will be smaller in size the more characters there are per line.

Please allow

2 business days

from time of purchase for your engraved truss rod cover to ship.
If you have any questions please email us at

support@philadelphialuthiertools.com

before placing your order.
Custom engraved truss rod cover

The product quality and engraving was great. I figured that all Gretsch truss rod covers would be the same. They're not. The measurements are given on the website and I didn't verify before ordering so that's my fault. The top hole doesn't line up. Again, my fault. Happy with the quality of the part. The 2 bottom screws hold it on well enough.

looks awesome, the only thing was the top hole was a little off so i had to make a new hole in the headstock but it covers the old hole anyways so i dont care too much.

THE source for custom truss rod covers

Philadelphia Luthier Tools is my go-to for all custom covers. They add a super polished and pro touch to any instrument.

Quality product and fast shipping

The cover is very well made and the engraving is extremely cleanly done. Definitely would recommend. Fits perfectly, does not do under for a genuine Gretsch part.

Shipping was unexpectedly quick. It says international orders arrive within 15 to 20 business days, I had mine within 7 (product was sent to Europe).

Would recommend, very satisfied.

Fits perfectly. Looks great. Thanks.

Very pleased with the truss rod cover. Looks great on my Gretsch 5620.

Professionally done, product arrived timely. Will definitely buy more in the future

Thanks guys great job

Excellent Product and fast delivery!

Dear P.L

This is a "custom shop" product. It came clean, shiny and there was not one scrap of engraving plastic left over. Like I said custom shop. You guys are pro's and my truss rod with my wife's name on it looks amazing.

Thank you so much!

Wayne
Colorado Springs

Ordered custom engraved truss rod cover for a duo jet. Shipped fast with quality engraving an it was a perfect fit.