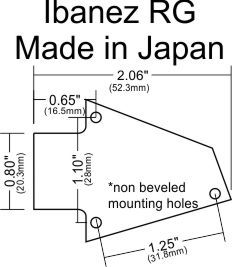 Aftermarket part (not Genuine Ibanez Part)

2 ply blank in black(1.5mm thick with 1mm white and .5 black)

Mounting screws are not included

Commonly used on Made in Japan Ibanez guitars. There are two very similar truss rod covers used on Ibanez guitars that look like this. The main difference is the placement of the top hole.

*****Please check measurements before ordering to insure a good fit. If you have a question please ask before ordering.******

Not currently available in left(reverse) truss rod covers

Engraved with your custom message and color filled with white paint.

1 or 2 lines with 12 character limit per line. Each line will be centered.

Please remember that the text will be smaller in size the more characters there are per line.

Please allow

2 business days

from time of purchase for your engraved truss rod cover to ship.
If you have any questions please email us at

support@philadelphialuthiertools.com

before placing your order.
MM or CM to Fractions of Inches
Ibanez Rg engraved truss rod cover

I am once again completely satisfied with my latest purchase from Philadelphia Luthiers!I've purchased a half dozen engraved truss rod covers to compliment my collection and am very happy with your products!The covers look amazing and are a perfect fit each time..thanks for doing what you do!