How to remove and tighten split shaft guitar knobs
The purpose of this document is to show you how to remove split shaft guitar knobs without damage to the guitar finish or hurting your fingers. Removing your guitar knobs can sometime be very easy. While other times extremely hard to do. I like to cut a piece of an old t-shirt since it soft and won't damage the guitars finish and is easy to find.
First you will need to cut a piece of an old t-shirt. Cut a piece about 4" x 8". When you're done fold the piece in half length wise. Slide the folded edge of the t-shirt carefully under the knob. Pull the two loose ends around the knob and start choking the knob with the t-shirt. Next start carefully pulling straight up on the t-shirt and the knob should simply pull off without any damage to you or your guitar.
Here some pictures of the process.
How to fix a loose fitting knob
Fixing a loose fitting knob is very easy to do but if done incorrectly you can very easily break the control.
What you don't want to do is spread the split shaft of the control. This is how a lot of controls get broken especially if you accidently spread them too far and need to bend them back
This is not the recommended way: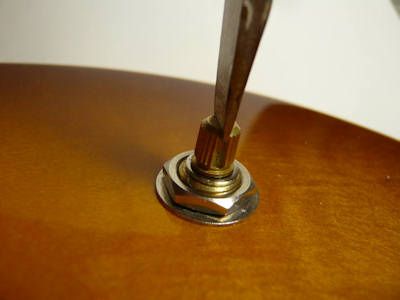 What we recommend being done for a loose knob is to put a little piece of masking tape on the control and slide the knob on top of the tape. This will help keep the knob tightly secured to the control shaft.